How to pick out a classy bathroom vanity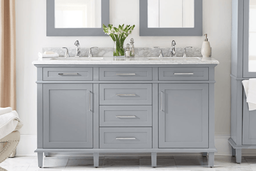 Consider investing in a timeless vanity set to give your bathroom a classy edge. Vanities are not only a beautiful addition to any bathroom, they are also practical and provide a place for both storage and to get ready for the busy day ahead.
Before purchasing a vanity, make sure you consider factors like accessibility, size, placement and the necessary plumbing work you will need installed.
Choosing the correct size for your vanity depends on the bathroom it will be placed in. An overly large vanity will give your bathroom a crowded appearance and will limit your ability to move easily in and out.
Make sure you choose a vanity that fits an easily accessible, logical spot in your bathroom. For example, don't choose a vanity that can only be accommodated in an area where your shower door needs to swing, or where the bathroom door needs to open into. Check the wall space above your vanity to ensure that there is space for a mirror to fit without clashing with windows, doors or other bathroom fixtures. In addition to this, choose a vanity that fits in your bathroom so as to allow you access to surrounding areas for cleaning.
The plumbing needs of your particular vanity will influence both the cost of installation and the initial purchase. Make sure you include the plumbing costs of your vanity into your budget plan as this can substantially increase the price. If you wish to reduce the price of plumbing for your vanity, place the vanity closer to other bathroom fixtures as this limits the cost of rough plumbing.
Finally, choose wisely when it comes to the materials your vanity is constructed out of. The humidity, dampness and heat of a bathroom environment means that powerful sealants will be needed for wood. Other materials like laminates and wood veneers are also a durable material for your vanity.