The ultimate bathroom renovation tips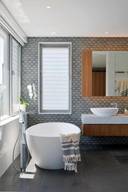 Renovating a bathroom can be overwhelming but fun. Are you aware that Renovating your bathroom is one of the greatest ways to increase the resale value of your home? Before you call or look for contractors, you must decide how much you going to spend, which products to use, and determine if you're going to change the layout.
Draw up a clear plan of the room to remodel. This will be a great reference not only for you but for all project's stakeholders. The planning stage is also the perfect time to eliminate some common problems, such as poor lighting or lack of ventilation and storage, by installing dimmer switches to adjust the light intensity and by adding built-in cupboards. Logical timing is all it takes to have a successful bathroom remodelling.
In as much as DIY is cost effective, with step-by-step instructions available on multiple online platforms, such as YouTube, never do the plumbing or electrical work yourself. This handiwork must be completed by experts for both safety and property insurance purposes. Allowing professionals to take care of this aspect of your remodelling plan will ensure that you can rest easy knowing the work is fully guaranteed.
Ask around for contractor recommendations or do an internet search for contractors in your area. Setup site inspections with the contractors. Apart from contacting submitted contractor's references, one of the best ways of choosing the right contractor is by asking them questions. Your contractor must have full knowledge of good quality material suppliers, trending bathroom materials and accessories, as well as the process of renovation, project time-frame, and how to produce the required result without breaking the bank. Each contractor's answers to your questions will confirm which one to entrust with your remodelling vision.
Your selected contractor must come up with a detailed project plan with dates, drawings, costs and the actual time required to finish the project. A good contractor must buy the material on your behalf and negotiate material discounts for you.
When all this is out of the way, the project must start and regular site checks will be required from you to ensure that the remodelling is proceeding timeously and if the contractor is following the process he outlined during the question and answer segment.
EXPERT TIPS
•Make sure silicone or waterproof based grout is used for moisture proofing if you are tiling your bathroom.
•If you are painting the walls, it is highly recommended to prime them first and then finish with a layer of latex paint, especially for kitchens and bathrooms.
•A silicone seal finish is a must to prevent water seepage around the bath, sink, and toilet and even around points of contact between the walls, counters and cabinets.
Articles related to your search: