Refrigerators and Freezers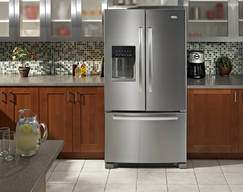 Refrigerators and Freezers: what to look for when you make a purchase
---
Get it right the first time when you choose a refrigerator or freezer for your family kitchen. There are many options to choose from when it comes to settling on which design, function or model of refrigerator or freezer you want. Use this guide to make sure you consider all the most important aspects of this central kitchen element before you make a purchase.
Refrigerators can be either freestanding or integrated into the surrounding cupboard space. Making the choice between the two depends on what look you wish to achieve in your kitchen. A freestanding fridge has the advantage of being more practical because it is moveable to wherever there is a socket nearby. An integrated fridge, however, can often help your kitchen achieve a more harmonious appearance as the fridge blends into the surrounding kitchen design for an integrated finish. However, an integrated fridge is a permanent decision as the space for the fridge will be specifically tailored to accommodate it. Homeowners must therefore make sure they are satisfied with the placement if their fridge if they choose an integrated design.
Deciding between a top-mounted or bottom-mounted freezer also deserves some thought. Top-mounted freezers are situated on top of the refrigerator, whereas bottom-mounted freezers are underneath the refridgerator. This difference in placement alters the function of your fridge and freezer set. Top-mounted models generally have larger refrigerator space for more fresh produce and less freezer space for frozen goods. Bottom-mounted freezers have the benefit of allowing easy access to frozen foods.
All refrigerators and freezers come with an energy label which homeowners should read and understand in order to know exactly what the product will do for them and to know how energy-efficient it will be. The energy label's purpose is to show the energy rating of your refrigerator and freezer as well as the amount of electricity the model will use in kilowatt-hours. The energy label will also include details pertaining to the decibal noise level of the unit and its capacity. If you want the most efficient energy rating, look for an A+++ model of refridgerator or freezer.
Finally, consider what extra features you want in your refrigerator and freezer, such as egg racks, crispers, temperature- controlled compartments or adjustable shelving.