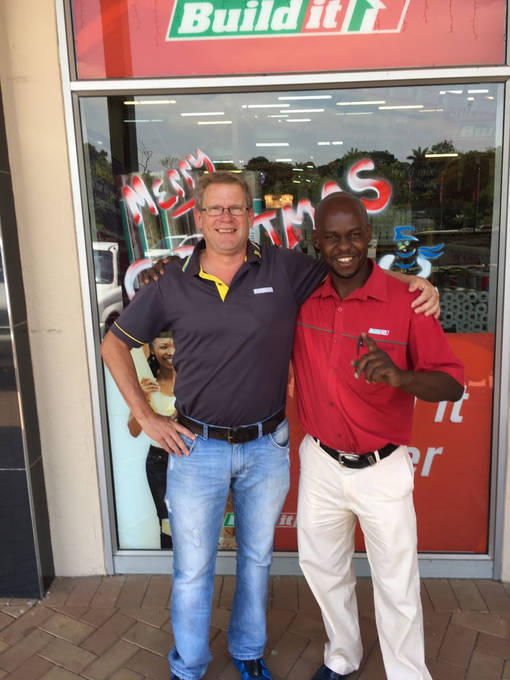 Blog Post 62
Well it's been an eventful three days and even more eventful few weeks. I have not written a blog for a while as I went back to Durban for a few days' break and was unfortunately hijacked in my hometown. This caused great delays in my trip and even worse inconvenience as I was left without a car and my bike was also stolen plus most of my possessions that were in the car with me because of the trip. But as the maxim goes one cannot cry over spilt milk and once I had got all my quotes in and met with the assessor and insurance people and filled in all the forms I borrowed a car and was off again.
So Monday saw me make the long haul up to Johannesburg where I stayed with a good school friend. On Tuesday I headed out to the Eastern Transvaal where I managed to do a huge day visiting the following Build It's. Kriel, Secunda, Bethal, AP Van Der Walt (in Carolina) and Elukwatini. I met great people in each store and everyone was very happy. I stayed in such a great farm B & B with the loveliest people you can imagine and had dinner with them and chatted long into the night. They really helped me as life has thrown some curve balls at me the past few weeks but nothing that I cannot handle
I slept so well having travelled over 1,000 kms over the past two days.
Today I was also extremely busy and I set out after a hearty breakfast from my B & B early. I managed to visit Dundonald, White River, Kabokweni and Msogwaba Build Its plus a courtesy visit to the regional head office in Nelspruit which was not the best stop on my trip so far. However the store visits went so well and everyone was great. Special mention to Stephan Briers who manages three Build It's who could not have been nicer. Absolute gentleman and super guy. Ten meetings in two days plus hundreds of kilometers (and three road blocks!) and I will be ready for my bed tonight.
I am now camped in White River and ready to continue my trip tomorrow which at the moment is far more rural than I imagined. I also am as usual absolutely astounded every day how beautiful this country of ours is. Also how diverse as from almost one km to the next driving east from Johannesburg it was so flat and stark and then suddenly into massive hills and huge valleys to look out into. What an awesome place it is that we live in. Adios.