Articles related to your search: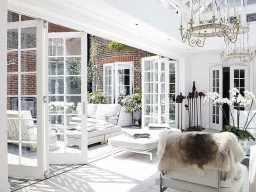 French Doors
French Doors French doors always bring around thoughts of light, airy spaces that are calm and elegant. French doors have been installed by home owners around the world, and add a distinct element of class and style. Installing French Doors in your home is a sure way to make a statement that begins from the moment you walk through them! There are multiple advantages to having French Doors incorporated into your home. A few of them include, design elements, light, and value. If you are thinking of adding French Doors as an element in your living space, look no further. Design and Choice: Installing French Doors should never mean having to compromise your own sense of design and personal style. French Doors range from being made from fibre, glass, wood and aluminium. Frames and fittings should be customised between homeowners and interior designers to ensure the best look is created. A glass French Door is sure to bring a heightened sense of openness whilst a steel French Door is going to add a modern edge. Whichever your preference, French Doors can be moulded to suit your home. Light: The main reason that homeowners seek French Doors in their home is due to the beautiful light that streams into rooms throughout the house. Of course, fully wooden or steel French Doors will have no light coming through them. French Doors with glass panels welcome stunning rays of sun to shine through. These are especially effective in homes that have a relatively closed interior design, as they create an illusion of openness and space. Value: French Doors can be considered an expensive investment. They require correct installation and attention to design. However, because they are aesthetically south after, you are more than likely to achieve an increased value on your home, should you ever wish to sell.
Read more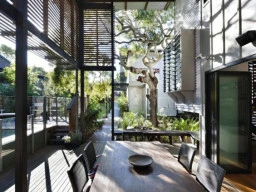 Bamboo Blinds
Bamboo Blinds If you are after shades or window treatments that are as aesthetically pleasing as they are kind to the environment, then bamboo shades are your best option! Using bamboo shades in your home is a sure way to ensure that you have high quality and stylish window treatment. Bamboo Blinds and the Environment: Despite its reputations for looking fantastic, bamboo is the first option to consider when choosing environmentally friendly materials to use in your home. Bamboo is considered a popular green material that makes a huge contribution to slowing down mass tree felling. Styles and Variations: Choosing different styles of bamboo shades is predominantly a choice that comes down to the actual width and spacing of the bamboo panels. Different styles also affect the way in which the bamboo shades are rolled up and down. Below are a few variations for you to choose from: • Matchstick Blinds. The name pretty much says it all! This style of bamboo blinds refers to using small, thin sticks of bamboo as opposed to larger slates or panels. This style is used for rooms that require more light to be let in. • Slat Blinds. This style is perhaps the polar opposite if the matchstick blind. The slat style is made up of larger panels or slats of bamboo. These blinds are perfect for keeping the sun out and ensuring privacy. • Roll up Shades. The roll up shade is a style that focuses more on the motion of the blind than the material itself. The roll up shade gathers at the bottom of the blind as it is pulled up, making a neat roll. • Roman Shades. This style is one of the most popular bamboo blind styles. The roman shade, like the roll up shade, is a style that focuses on the motion of the blind. The roman shade separates into different sections as the blind is pulled up. You should also keep in mind that bamboo comes in a wide range of tones and colours. These colours will, however, fade and change over time. This is not necessarily a bad thing. As the bamboo matures, it may turn from a greenish tone to a warm brown that will look lovely in the home. Consult a professional to understand just how your bamboo will change. Consult one of our professionals to get expert opinions on bamboo window treatment in the home. Please visit our homepage for more articles that may interest you.
Read more