Articles related to your search:
GGA WINDOWS AND DOORS
In these modern days, aluminium windows can now be fitted with shutters, burglar bars and security screens to enhance security of occupants and their possessions, whilst maintaining the aesthetic appeal of the property.
Read more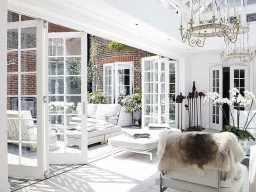 French Doors
French Doors French doors always bring around thoughts of light, airy spaces that are calm and elegant. French doors have been installed by home owners around the world, and add a distinct element of class and style. Installing French Doors in your home is a sure way to make a statement that begins from the moment you walk through them! There are multiple advantages to having French Doors incorporated into your home. A few of them include, design elements, light, and value. If you are thinking of adding French Doors as an element in your living space, look no further. Design and Choice: Installing French Doors should never mean having to compromise your own sense of design and personal style. French Doors range from being made from fibre, glass, wood and aluminium. Frames and fittings should be customised between homeowners and interior designers to ensure the best look is created. A glass French Door is sure to bring a heightened sense of openness whilst a steel French Door is going to add a modern edge. Whichever your preference, French Doors can be moulded to suit your home. Light: The main reason that homeowners seek French Doors in their home is due to the beautiful light that streams into rooms throughout the house. Of course, fully wooden or steel French Doors will have no light coming through them. French Doors with glass panels welcome stunning rays of sun to shine through. These are especially effective in homes that have a relatively closed interior design, as they create an illusion of openness and space. Value: French Doors can be considered an expensive investment. They require correct installation and attention to design. However, because they are aesthetically south after, you are more than likely to achieve an increased value on your home, should you ever wish to sell.
Read more