Vinyl and Laminate Floors: which one works for you?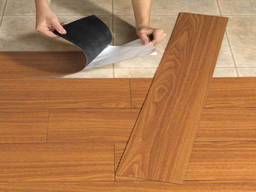 Vinyl flooring and laminate flooring are two totally different flooring options that can be easily confused. Both are advertised as being nearly identical, long-lasting and relatively affordable products, but there are differences between the two that make one product more appropriate for some homeowners than others.
Vinyl and laminate both differ in terms of their materials, comfort level, moisture resistance and thickness-level. Vinyl flooring is 100% plastic and is the best option for homeowners who need a moisture-resistant surface. Vinyl flooring is, therefore, a perfect option for bathrooms, where moisture control and durability are a concern.
Vinyl can also be made to mimic wood for a more natural look and can be embossed or techniques to achieve a certain texture.
In contrast, laminate flooring is 99% wood-based and has a pressed-board wood core that makes it naturally thicker than vinyl flooring. It is not as water-resistant and is therefore not appropriate for areas like the kitchen, where flooding is a probability. Despite this drawback, laminate flooring gives a home an authentic appeal because it is composed of actual wood.
In rooms like bedrooms, lounges, home studies or dining rooms, laminate flooring is recommended for its greater comfort and authentic appearance. The reason for this increased degree of comfort in laminate flooring is its degree of thickness. Laminate flooring incorporates real wood content and is significantly thicker than vinyl flooring, which makes it less hard and cold. Homeowners have the option of adding a foam underlayment to lend even more comfort to the laminate surface.
Both laminate and vinyl flooring are relatively cheap, with their own price ranges respectively. It is possible for homeowners to install both types of flooring themselves, with vinyl being available in ready-made planks and laminate being available in sheets, or large boards, that must be cut and underlaid with foam.
Articles related to your search: